Planning to dress up for THE LAST JEDI but don't know what to wear? The Fandom has you covered!
Whether you're dressing up* to attend the premiere of Star Wars: The Last Jedi or looking to get a head start on next year's Halloween costume, we've compiled a list of six easy Star Wars themed costume ideas!
1. Jyn Erso
Fan of Star Wars: Rogue One? Jyn Erso is a great option, because many of her costume pieces are things you may already own! StarWars.com laid out the pieces and even explains how you can DIY your own Jyn Erso vest!
2. Rey
Want to dress up like one of the leading ladies herself? You can make your own Rey costume using strips of fabric, brown clothes, and boots! Fan forums have various steps on how you can make your own look, and it's up to you to make the costume fit your budget/style.
3. DIY Jedi
It's hard to go wrong with a generic Jedi look! All you need is a brown robe and tan clothes for underneath. You can make your own lightsaber out of dollar store items, such as a pool noodle and duct tape!
4. Iconic Star Wars Hairstyles
If you don't want to go all out with a costume, replicating an iconic Star Wars hairstyle may be a great option for you! The tutorial below shows how you can imitate various updos, and there are tons more tutorials online!
5. Ready-To-Buy Chewbacca Onesie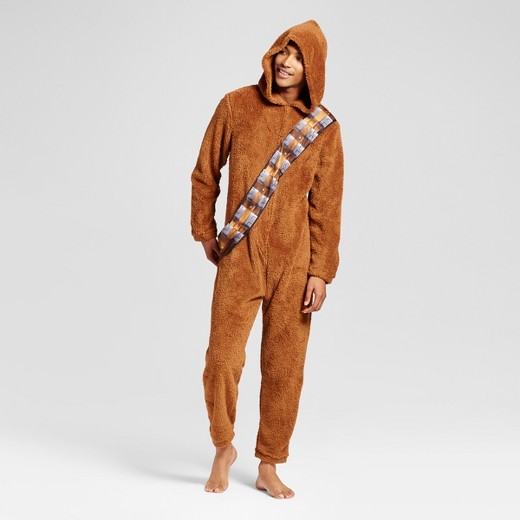 If you're not so into DIY costuming, Target is selling a Chewbacca onesie that could be a cozy costume option. If you want to take it to the next level, you could try Chewbacca themed face paint or even a Chewbacca mask.
6. Han Solo
Is it too soon to go as Han Solo?! The internet is full of tutorials for easy costumes of our favorite Smuggler, ranging in difficulty and detail! A white shirt, black vest, and red-accented pants may just do the trick.
*Don't forget to check out the mask and fake weapon policies of your local theater before dressing up!
Let us know if you use any of these suggestions, of if there's an easy costume that you think we should know! Less than ten days until Star Wars: The Last Jedi.