Two Dark Reigns by Kendare Blake is the book I expected to read when I picked up the first. Full of mystery, the secrets of the queens, island, and the past slowly emerge from the mist that shrouds them all.
Review
Two Dark Reigns explores a couple of new threats that surface and how the queen crowned, along with her council tries, to solve them. Some concepts from previous installments, i.e. Blue Queens, are explored further with a heavier emphasis on Fennbirn's history. The narrative also cuts to Arsinoe travelling with Mirabella, and Jules as she explores her Legion gift/curse in Bastian City. Also, in case you think I'm being extremely vague about everything, it's because I am. I don't want to spoil anything in case I take the enjoyment out of reading this for yourselves.
Now, onto what I'm most excited to talk about: the characters! Katherine is my absolute baby and her relationship with Pietyr is my endgame. I've loved the poisoners since Three Dark Queens and seeing Katherine's resignation to her fate in book one versus her bloodthirsty determination in book two to her diplomacy now is such an amazing character arc. I also love Pietyr standing by Katherine throughout everything (despite their little…accident), and him trying to do what's best for her even if he might hurt by it in the process. And not to forget the late-matriarch of the Arrons, Natalia. Her actions display her love for Katherine all the way till the end.
Meanwhile, Mirabella and Arsinoe and Billy are okay. Nothing they do perturbs me much because I can see it from a mile away, but nothing gets me more riled up than Jules. I can't put an exact finger on why she makes my hairs rise up but I think it's the way everything comes so easily to her. She has the strongest Naturalist gifts seen on the island for a long time plus her accelerated War gift that is said to be dormant on most of Fennbirn but she so happens to be great at? Along with that, Mirabella's feelings toward Jules in Two Dark Reigns explain it pretty well. If you combine my reasoning with Mirabella's sentiments, I think you'll get down to the root of the problem.
The world has definitely been expanded past what we learned since book one and two since we see some parts of history coming in and influencing the present. In the case of pacing, the first half is normal exposition and slowly rising in tension but the best is in the latter half. Those last two chapters made me so apprehensive about the future and I cannot wait to see what happens in book four!
RATING: 3.5 OUT OF 5 STARS
Two Dark Reigns is expected to be published on September 4th, 2018. You can preorder it via Amazon or support your local bookstore via Indiebound!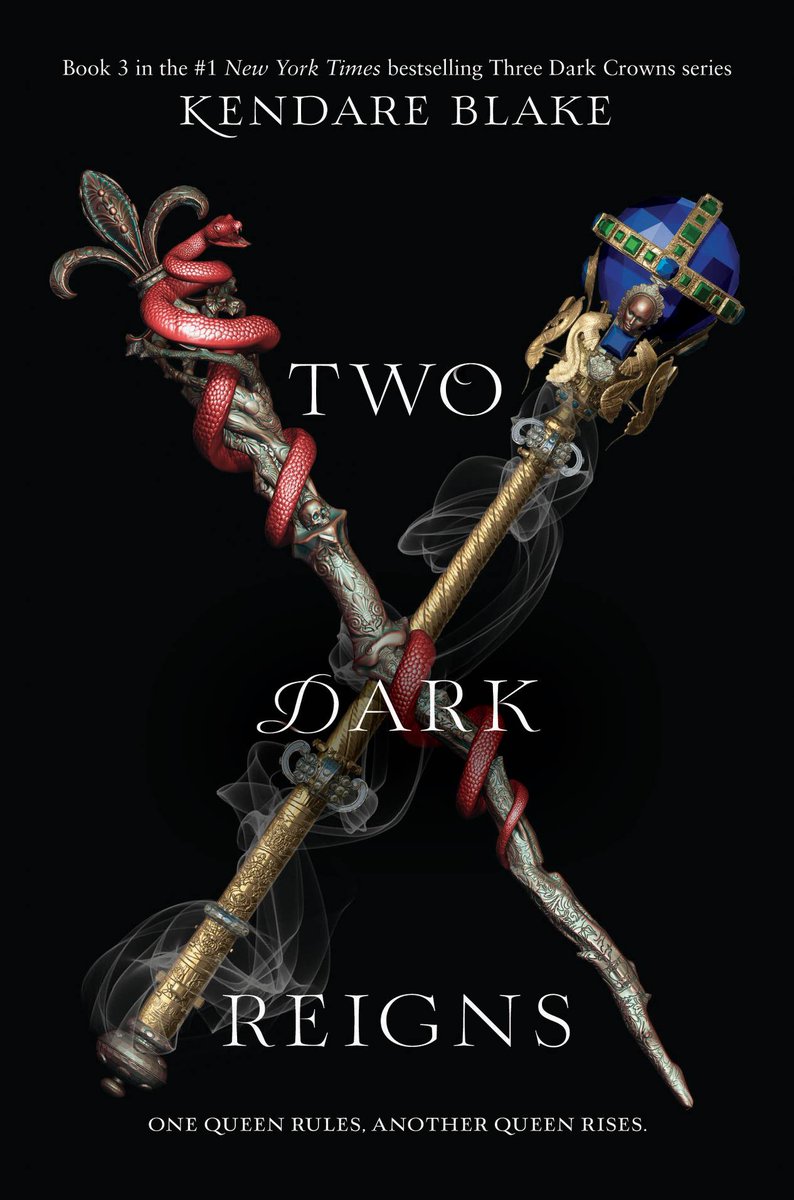 #1 New York Times bestselling author Kendare Blake returns with the highly anticipated third book in the Three Dark Crowns series!

Katharine sits on the throne, Mirabella and Arsinoe are in hiding, and an unexpected renegade is about to wage a war of her own. The crown has been won, but these queens are far from done.