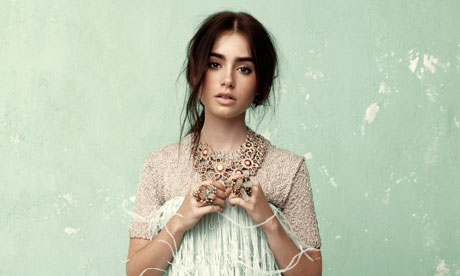 Lily Collins
About: Love her or hate her, Lily Collins has drawn a lot of attention in the past year, especially in the fancasting realm. Collins came to the world stage this year with her role as Snow White in "Mirror, Mirror". Since then she has been cast in a number of high-profile roles, including in the much-anticipated film adaptation of "The Mortal Instruments: City of Bones" as Clary Fray.
Pros:
– She would draw a lot of attention from YA fans to the Delirium franchise.
– There would be significantly more press for the Delirium movie if an up-and-coming actress like Collins were to be cast.
– She would appease a lot of Delirium fans, as she has been a fancasting favorite for the role.
Cons:
– She is already cast as Clary in TMI and would not likely accept another YA role so soon.
– She has been fancasted for just about every YA novel-turned-movie and if she was cast as Lena, a lot of other fandoms might be upset.
Naomi Scott
About: Naomi Scott is a lesser-known young actress who has gained some attention for her roles in the US Disney Channel movie "Lemonade Mouth" and in the UK mini-series "Terra Nova".
Pros:
– An anticipated role as Lena would put Scott on the map for future teenage movie roles, which would increase interest in the Delirium franchise.
– She fits the bill for Lena as a short, brown-haired teenager with understated beauty.
Cons:
– Scott does not have as extensive acting experience as some of the other fancasts for the role.
– Casting directors may not be interested in choosing Scott due to her limited resume.
Emma Watson
About: Emma Watson is internationally known and recognized for her eight-movie part in the Harry Potter films as Hermione Granger. She will co-star in "The Perks of Being a Wallflower" debuting late September 2012.
Pros:
– Arguably the most well-known fancast on the list for Lena, Watson would bring considerable attention to the Delirium franchise.
– Watson has grown immensely as an actress since her first role in Harry Potter and the Sorcerer's Stone. She has spend most of her life acting and possesses considerable talent.
Cons:
– Her American accent, as seen in previews of "The Perks of Being a Wallflower," could use some work.
– She would have to use a wig or grown out her currently pixie-cut hair.
– As such a well-known actress, Watson may decline the role for a movie of a lesser-known series as Delirium (compared to Harry Potter, that is.)